Welcome to Or Hadash
COVID-19 Update: During these uncertain times we are committed to physical distancing, but not social distancing!
Check here regularly for scheduling updates of virtual Or Hadash
services and programming.
Youth and Family Education
Throughout the summer Jews and Taboos (8th graders and up) will occur weekly on Sundays at 5:00 pm.
Sunday, May 31
9:15 am Morning Minyan
Siddur Sim Shalom
Tuesday, June 2
7:00 am Morning Minyan
Siddur Sim Shalom
12:00 pm Torah in the Woods with Rabbi Mario
Wednesday, June 3
11:45 am What's Hot and What's Not in Israel
with Rabbi Mario
Thursday, June 3
5:00 pm Torah With An Accent
Join Rabbi Mario and other Latin American Rabbis
as they discuss the weekly Parsha
on Or Hadash's Facebook page
Friday, June 4
6:30 pm Servicio de Shabbat
Siddur Lev Shalem
Saturday, June 5
9:15 am Shabbat Morning Services
8:45 pm Havdalah
*If you prefer to access any of the virtual programs by phone, contact Rabbi Mario for more information.
Mission Statement
Congregation Or Hadash is a dynamic, egalitarian (our first 5 synagogue Presidents were women), Conservative synagogue offering a warm, inclusive, spiritual Jewish environment. We achieve our mission by dedicating ourselves to the following values:
תפילה ושירה Inspiring Through Prayer, Ritual, and Music
לימוד Promoting Lifelong Learning
תיקון עולם Embracing Tikkun Olam
אהבת ישראל Encouraging Love of Israel, and
קהילה קדושה Creating a Caring Community
Check Out Our Spiritual Space
Sun, May 31 2020
8 Sivan 5780
(Click images below for more information)
---
---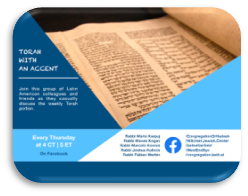 Torah With An Accent: A casual weekly Torah portion study among friends.
Find us on Facebook live every Thursday
5PM Eastern on our Facebook page!
---
2020 Event of Honor
Sunday, July 12, 2020
5:30 pm | Dinner, Drinks & Dancing

---
World Health Organization
COVID-19
Advice for the Public | Q&A |
National Institutes of Health (NIH)
Coronavirus TAX Relief
Job Cuts... What to Do
Resource Flyer

** Local Resources **
Jewish Federation Resources
JF&CS Expanded Services
Sandy Springs COVID-19 Response
Sandy Springs Police Residential Check
---

Simple ways to fight hate in general and antisemitism in particular | Read more
---
Today's Calendar
---
Upcoming Programs & Events
---
This week's Torah portion is

Parshat Beha'alotcha
Candle Lighting
Havdalah
Motzei Shabbat, Jun 6, 9:17p
Shabbat Mevarchim
View Calendar
Sun, May 31 2020 8 Sivan 5780