Machon Hadash
Past Sessions
Saturday, March 7, 2020

•

11 Adar 5780

-

9:30 AM - 12:00 PM

-

Or Hadash
Saturday, February 29, 2020

•

4 Adar 5780

-

9:30 AM - 12:00 PM

-

Or Hadash
Saturday, February 22, 2020

•

27 Shevat 5780

-

9:30 AM - 12:00 PM

-

Or Hadash
Saturday, February 8, 2020

•

13 Shevat 5780

-

9:30 AM - 12:00 PM

-

Or Hadash
Saturday, February 1, 2020

•

6 Shevat 5780

-

9:30 AM - 12:00 PM

-

Or Hadash
Saturday, January 25, 2020

•

28 Tevet 5780

-

9:30 AM - 12:00 PM

-

Or Hadash
Saturday, January 18, 2020

•

21 Tevet 5780

-

9:30 AM - 12:00 PM

-

Or Hadash
Saturday, January 11, 2020

•

14 Tevet 5780

-

9:30 AM - 12:00 PM

-

Or Hadash
Saturday, December 14, 2019

•

16 Kislev 5780

-

9:30 AM - 12:00 PM

-

Or Hadash
Saturday, December 7, 2019

•

9 Kislev 5780

-

9:30 AM - 12:00 PM

-

Or Hadash
Saturday, November 16, 2019

•

18 Cheshvan 5780

-

9:30 AM - 12:00 PM

-

Or Hadash
Saturday, November 9, 2019

•

11 Cheshvan 5780

-

9:30 AM - 12:00 PM

-

Or Hadash
Saturday, November 2, 2019

•

4 Cheshvan 5780

-

9:30 AM - 12:00 PM

-

Or Hadash
Saturday, October 26, 2019

•

27 Tishrei 5780

-

9:30 AM - 12:00 PM

-

Or Hadash
Saturday, October 19, 2019

•

20 Tishrei 5780

-

9:30 AM - 12:00 PM

-

Or Hadash
Saturday, October 5, 2019

•

6 Tishrei 5780

-

9:30 AM - 12:00 PM

-

Or Hadash
Saturday, September 28, 2019

•

28 Elul 5779

-

9:30 AM - 12:00 PM

-

Or Hadash
Saturday, September 21, 2019

•

21 Elul 5779

-

9:30 AM - 12:00 PM

-

Or Hadash
Saturday, September 14, 2019

•

14 Elul 5779

-

9:30 AM - 12:00 PM

-

Or Hadash
Saturday, September 7, 2019

•

7 Elul 5779

-

9:30 AM - 12:00 PM

-

Or Hadash
Machon Hadash: K-6th Grade meets on Shabbat mornings from 9:30 am-12:00 pm.
Share Print Save To My Calendar
Sun, May 31 2020
8 Sivan 5780
(Click images below for more information)
---
---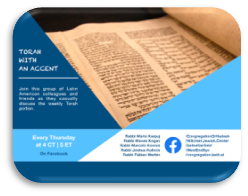 Torah With An Accent: A casual weekly Torah portion study among friends.
Find us on Facebook live every Thursday
5PM Eastern on our Facebook page!
---
2020 Event of Honor
Sunday, July 12, 2020
5:30 pm | Dinner, Drinks & Dancing

---
World Health Organization
COVID-19
Advice for the Public | Q&A |
National Institutes of Health (NIH)
Coronavirus TAX Relief
Job Cuts... What to Do
Resource Flyer

** Local Resources **
Jewish Federation Resources
JF&CS Expanded Services
Sandy Springs COVID-19 Response
Sandy Springs Police Residential Check
---

Simple ways to fight hate in general and antisemitism in particular | Read more
---
Today's Calendar
---
Upcoming Programs & Events
---
This week's Torah portion is

Parshat Beha'alotcha
Candle Lighting
Havdalah
Motzei Shabbat, Jun 6, 9:17p
Shabbat Mevarchim
View Calendar
Sun, May 31 2020 8 Sivan 5780