B'nai Mitzvah Service Learning Workshop
Past Sessions
Sunday, March 17, 2019

•

10 Adar II 5779

-

10:00 AM - 11:00 AM
Sunday, February 17, 2019

•

12 Adar I 5779

-

10:00 AM - 11:00 AM
Sunday, February 3, 2019

•

28 Shevat 5779

-

10:00 AM - 11:00 AM
Sunday, January 20, 2019

•

14 Shevat 5779

-

10:00 AM - 11:00 AM
Sunday, December 16, 2018

•

8 Tevet 5779

-

10:00 AM - 11:00 AM
Sunday, December 2, 2018

•

24 Kislev 5779

-

10:00 AM - 11:00 AM
Sunday, November 11, 2018

•

3 Kislev 5779

-

10:00 AM - 11:00 AM
Sunday, October 21, 2018

•

12 Cheshvan 5779

-

10:00 AM - 11:00 AM
Sunday, October 7, 2018

•

28 Tishrei 5779

-

10:00 AM - 11:00 AM
Children with upcoming B'nai Mitzvah are encouraged to attend this workshop to learn with Rabbi Mario about the ins and outs of leading Shabbat services at Or Hadash.
Share Print Save To My Calendar
Thu, June 4 2020
12 Sivan 5780
(Click images below for more information)
---
---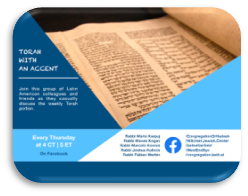 Torah With An Accent: A casual weekly Torah portion study among friends.
Find us on Facebook live every Thursday
5PM Eastern on our Facebook page!
---
2020 Event of Honor
Sunday, July 12, 2020
5:30 pm | Zoom Gala Celebration
for our beloved Rabbis!
We hope you will be a part of it!

---
World Health Organization
COVID-19
Advice for the Public | Q&A |
National Institutes of Health (NIH)
Coronavirus TAX Relief
Job Cuts... What to Do
Resource Flyer

** Local Resources **
Jewish Federation Resources
JF&CS Expanded Services
Sandy Springs COVID-19 Response
Sandy Springs Police Residential Check
---

Simple ways to fight hate in general and antisemitism in particular | Read more
---
Today's Calendar
---
Upcoming Programs & Events
---
This week's Torah portion is

Parshat Beha'alotcha
Candle Lighting
Havdalah
Motzei Shabbat, Jun 6, 9:17p
Shabbat Mevarchim
View Calendar
Thu, June 4 2020 12 Sivan 5780