e-Hadashot (חדשות) Weekly Newsletter
May 15, 2019 | 10 Iyar 5779 - אייר
Shabbat Candle Lighting 8:15 pm | Havdalah 9:04 pm
Parashat Behar | פרשת בהר
Ma Hadash - מה חדש

Rabbi Dr. Analia Bortz and Rabbi Mario Karpuj
From the Rabbis:
In this time of transitions, counting the Omer from Pesach to Shavuot and journeying from Yom HaAtzmaut to Yom Yerushalaim (Six Days of War), invest time in watching Dr. Micah Goodman enlightening us about this subject.
Coming soon – the Recognition Wall Art | RSVP by May 31, 2019
When we first launched our capital campaign several years ago, we committed to saying a collective thank you to all of our major financial supporters who contributed over a certain threshold to the campaign, and to do so in a tasteful manner as befits the style and custom of our congregation. The Board of Directors has authorized the commissioning of a unique piece of artwork designed by Miriam Karp, a noted local artist, to honor the over 100 supporters who contributed at or above the defined level. We plan on unveiling this piece in the near future (larger view shown here).
If you are among those who have contributed at least $10,000 to support the construction of our building, you should have recently received an email from us confirming your desire to be listed on the artwork and asking for your preferred method of listing your name(s). If you have contributed at or above this level, and you have not received this email, please let us know as soon as possible.
If you are interested in making an additional contribution to our Building Fund in order to have your name listed, please contact Scott Allen no later than May 31st. Thank you to all of the members of our community for all you have done and continue to do, to make Or Hadash the incredible community that it is.

Friday, May 17
6:30 pm Servicio de Shabbat
L'hitraot to Yuval!
Blessing of the Maccabi Athletes and High School Seniors

Saturday, May 18
9:15 am Shabbat Service
11:00 am ShabbaTalks with Rabbi Analia (final session of the season)
Kiddush Sponsored by Michael and Teresa Matheny and Carolyn Lippman
Sunday, May 19
9:15 am Morning Minyan
3:00 pm Book Signing and Conversation with Sherry Frank | RSVP
6:00 pm Jews and Taboos
Tuesday, May 21
7:00 am Morning Minyan
8:00 am Learning with the Rabbis
12:00 pm Torah in the Woods (offsite)
7:00 pm Hebrew Order of David Meeting
---
LIFE & LEGACY...
What's your passion?
(Click logo or contact Scott Allen for more information.)
Thank you to Michelle Epstein for her help and expertise in writing our security grant proposal.
Upcoming B'nai Mitzvah
(Support our Kids! Active links point to B'nai Mitzvah Projects)

5/25 Rachel Kurgan
7/27 Maya Shatil
8/17 Tzvi Gan
Congregational Highlights
Blessing of the Maccabi Athletes and High School Seniors | 6:30 pm Friday, May 17
Many of our children are among 1,200 Jewish boys and girls representing Jewish community centers from throughout the country and soon will join 400 of their Atlanta peers in the annual JCC Maccabi sports festival from July 28 to August 2, 2019. At Congregation Or Hadash, we want to honor our athletes. Join us during services for a very special blessing. View our Macabbi participants
ShabbaTalks | 11:00 am Saturday, May 18
Each month through May 2019, explore theology with Rabbi Analia. We will discuss articles by David Hartman, A.J. Heschel, Eliezer Berkovitz, Jacob Milgrom, and Neil Gillman. Feel free to attend these sessions à la carte or step out of services to participate. No RSVP required!
A Conversation with Sherry Frank | 3:00 pm Sunday, May 19, 2019 | Share Flyer
Join us for a book signing event and personal reflections on the road that led to A Passion To Serve, Memoirs of a Jewish Activist. Listen to some of the compelling stories from Sherry's career... over fifty years as a community activist working tirelessly in the Jewish and general communities of Atlanta. Sherry is an active feminist, a champion for civil and human rights and equality for all. Thank you for letting us know you are coming: RSVP.
Daytime Book Club | 1:15 pm Wednesday, May 29 (New Date)

This month we'll discuss Promised Land by Martin Fletcher; our discussion leader is Myrna Feigenbaum. Books are chosen by participants. All members are invited and walk-ins are welcome. Contact Hanora Rosen for more information.
Annual Meeting and Installation of Board | 5:15 pm Friday, May 31
Join your Or Hadash family as we begin the evening with dinner followed by our 2019-2020 Board Installation, Servicio de Shabbat and a delicious Oneg. We will honor our incredible volunteers and celebrate the past year's accomplishments. To help us with food accommodations, please RSVP by Tuesday, May 28th.
Yom Yerushalayim Event | 5:30 pm Sunday, June 2
Join us in celebration of the reunification of Jerusalem with an evening of Shesh Besh (backgammon), mint tea, Turkish coffee and a variety of Israeli desserts and appetizers! Bring your backgammon boards, taki cards, rummikub, or whatever your preferred game. COST $5 per person; please RSVP by Wednesday, May 29th. Share Flyer
Family Promise Week | Sunday, June 2 - Sunday, June 9
We are excited to be a part of an incredible volunteer opportunity in collaboration with Family Promise of North Fulton/Dekalb - ending the cycle of homelessness one family at a time. Your help is greatly appreciated!
In order to prepare for our families, we need your help to:
1) Prepare and serve meals, set up and break down rooms, engage with families in homework, studies and crafts.
Sign up for FP Volunteer Opportunities here.
2) Stock the pantries (food and supplies) and provide activities for Saturday afternoon. Please sign-up for as many items as you wish and bring them to SSUMC (Sandy Springs United Methodist Church, 86 Mt Vernon Hwy, Sandy Springs GA, phone: 404.255.1181, hours are Monday - Thursday 8:00 am - 4:00 pm; Friday 8:00 am - 2:00 pm) no later than Tuesday, May 28th. Please ensure your items are labeled "Family Promise. Sign up for FP Donation Supplies here.
Anything for a Laugh! | 10:00 am Tuesday Mornings: June 4 through July 9
Congregation Or Hadash and Temple Sinai join to sponsor Anything for a Laugh - American Comedy and The Making of the American Jewish Soul with host Bob Bahr. Join us for an educational exploration of the influence of American Jews in show business. Using film and other documentary materials, we'll take a look at comedy performances in radio, film, television and stand-up of favorites like The Marx Brothers, Sid Caesar, Lenny Bruce, Mel Brooks, Jerry Seinfeld, The Simpsons and The Goldbergs. Discover how American Jews taught America to laugh, and how that mirrored the way Jews saw themselves in American society during the 20th century. The total cost for the six-week program is $49/person; open to the community. Let us know you are coming, enroll today!.
Bingo at the Breman | 7:30 pm Wednesday, June 5
Connecting with others gives our seniors something to look forward to as well as a purpose. Statistics show that seniors who maint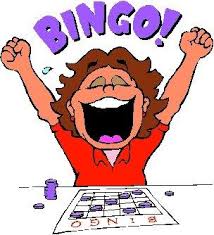 ain social interaction have a much slower decline mentally and physically than those who do not. Bring the whole family and join the fun of putting smiles on faces... your participation will go a long way in the health of our seniors. Mitzvah Opportunity: One of our members, Beth Berger, would like to participate, but is unable to make the drive at night; she lives close to the shul. If you plan to make the drive, please get in touch with Beth so that she can ride with you. Beth Berger | 4BethBerger@gmail.com (And let us know too!)
Feed-the-Hungry at SSUMC | 12:30 pm Sunday, June 9
Through our partnership with SSUMC, we will help prepare and serve a warm and delicious lunch. Let's come together as a community to serve those in need. Click here to sign up for food selection. Unable to help, but want to participate? Please consider making a donation towards the cost of food. Click here to donate online or send your check marked for the Tikkun Olam Fund. If you have any questions, please reach out to Gordon Singer | 404.255.8913.
COH Book Club | 7:30 pm Wednesday, June 12
This month's Book Club hosts are Elizabeth Appley and Sandy Epstein. We'll review and discuss Famous Father Girl: A Memoir Growing up Bernstein by Jamie Bernstein. All members are welcome to join. For information about this book club and to RSVP, please email cohbookclub@aol.com. View 2018-19 Book Schedule.

Youth Learning and Programming
Explore our youth opportunities! Click here.

L'hitraot to Yuval! | 6:30 pm Friday, May 17
Our year with Yuval as our shinshin is coming to a close. Join us for services on Friday, May 17th at 6:30 pm as we hear from Yuval about her experiences over the past year! Stay after services for Oneg to chat with and say goodby to Yuval.
Machon Hadash Registration is Open for 2019-2020 School Year!
Register today to apply your early bird discount for the 2019-2020 School Year (deadline is June 1, 2019).
Register Here >>> Please log into the Or Hadash Website after you click on the link in order to fill out the form.
MH 2019-2020 School Calendar | MH 2019-2020 School Fees
The Machon Hadash teachers work very hard to provide our youth with a meaningful Jewish education experience. Please donate to the Teacher Appreciation Gift Fund so we can give each of our amazing teachers a thank you gift at the end of the school year. An $18 donation per child enrolled in Machon Hadash is suggested, however please feel free to donate any amount you are comfortable.

Apply today to be a madrich/a in Machon Hadash (our Jewish education program)!
This leadership program is open to 8th-12th graders. Details about the role are included in the application form.
We want to hear from you!
Please take a moment to complete our Youth Programming Survey for Parents! We love getting feedback from our families so that we can provide you with the most exceptional Jewish communal experiences possible. Everyone who completes the survey will be eligible for a drawing to win something spectacular! Parent Survey
---
Birthdays | May 15 - 21
5/15
Jerome Blumenthal
Yitzhak Hermoni
Sarah Jeffres
Sheila Cohen
5/16
Jeffrey Lazarus
Merle Horwitz
Hailey Shaffer
Michelle Berghoff
Issac Kaufman
5/17
Gail Duner
Michael Shuster
Simone Lederman
Dawn Behr-Ventura
Leslie Wachter
5/19
Todd Parker
Edward Berman
Laurence Frank
Paul Simonoff
Ilana Sturisky
Rahel Romo
Nancy Levin
5/20
Debbie Smith
Hannah Jenks
5/21
David Raphael
Carl Feigenbaum
Yahrzeits | May 17 - 23
5/18
Herschel Harry Katz, Grandfather of Erica Katz
Isaac Kurgan, Father of Ada Gelb and Bennie Kurgan; Grandfather of Mia Atkins and Paul Kurgan
Sidney Wexler, Father of Howard Wexler
5/20
Sol Eisenband, Father of Robert Eisenband
Harold R. Gelb, Father-in-law of Ada Gelb, Relative of Paul Kurgan
Kalman Hesselsohn, Father of Lola Sliom
Anita Goldberg, Mother of Carl Feigenbaum
Moshe Ben Yanker Shimon, Father of Ethel Milgram
5/21
Tillie Sachs, Mother of Barbara Sachs
5/22
Ivan Videlefsky, Brother of Searle Videlefsky
Milton Schleicher, Father of Frances Schleicher
5/23
Felix Rosenzweig, Father of Michael Rosenzweig
Frances Friedman, Mother of Douglas Friedman
Isaac Strauss, Father of Renee Lebowitz
Margaret Weiller, Mother of Margo Edlin
---
Names in blue denote Memorial Brick in the sanctuary.
Click here to find out how to purchase a Memorial Brick for your loved one.
How will you assure Jewish tomorrows? Click here to learn about LIFE & LEGACY.
May 7 - 13
Adult Education Fund
In Memory of Estelle Segal and Beverly Kaiman
Marjorie and Douglas Friedman
Building Fund
In Memory of Beverly Kaiman and Estelle Segal
Gita and Steve Berman
Debra and Albert Labovitz
Chesed Fund
In Memory of Beverly Kaiman
Michelle and Marc Gary
Elaine and Jerome Blumenthal
Saree and Steve Hantler
In Memory of Estelle Fleishman Segal
Natalie and Jay Kaiman
In Memory of Estelle Segal and Beverly Kaiman
Saree and Steve Hantler
Denise Lee
In Memory of Elimelech Ringler
Zahava and Frank Berkowitz
In Memory of Isaac Kurgan and Harold Gelb
Ada Gelb
In Honor of Ed Berman's Birthday
Denise Lee
Education and Youth Program Fund
In Honor of the B'not Mitzvah of Lexie and Macey Gordon
Marjorie and Douglas Friedman
In Honor of Ula Zusman's graduation
Marjorie and Douglas Friedman
In Memory of Beverly Kaiman
Leslie and Fred Wachter
General Fund
In Honor of the B'not Mitzvah of Lexie and Macey Gordon
Gabriela Siegel and Morris Benveniste
In Memory of Beverly Kaiman
Gabriela Siegel and Morris Benveniste
In Memory of Estelle Fleishman Segal
Flavio and Dora Manela
In Memory of Beverly Kaiman and Estelle Segal
Marc and Susan Backer
In Memory of Beverly Kaiman
Rabbi Joab Eichenberg-Eilon and Jan Jaben-Eilon
Men's Club Fund
In Honor of Ronald Scheinzeit
Daniel and Jessica Gordon
Rabbi Discretionary Fund
In Memory of Estelle Segal and Beverly Kaiman
Sherry Frank
Lynne Halpern
In Memory of Estelle Segal
Rabbi Joab Eichenberg-Eilon and Jan Jaben-Eilon
Tikkun Olam Fund
In Honor of Itz Hermoni's Birthday
Marjorie and Douglas Friedman
---
---


Click here to honor or memorialize a loved one with your tax-deductible donation to Congregation Or Hadash.
Jewish Atlanta
Click the graphic above to read what's happening within our community and the Greater Atlanta area.
The items highlighted below are member supported announcements.
** Highlights in Community **
Tell the Sandy Springs City Council to vote YES on building the new Cultural Center
AJFF 2020 Film Evaluation... Deadline Extension for YPs
Get Social | Stay Connected
Sun, May 31 2020 8 Sivan 5780