e-Hadashot (חדשות) Weekly Newsletter
March 21, 2018 | 6 Nissan 5778 - ניסן
Shabbat Candle Lighting 7:33 pm | Havdalah 8:22 pm
Parashat Tzav | פרשת צו
A Cultural Journey to Israel@70

Haverim Yekarim,
Continuing our journey to celebrate Israel's 70th birthday through poetry and song, every week until Yom Ha'Atzmaut, we will post both in the e-Hadashot and Or Hadashot a poem or song that reflects Israel's journey throughout seven decades. We will learn this song together every Shabbat, either on Friday night or on Shabbat morning.
This week we will learn A Different Renewal, by Naomi Shemer... click here

Wednesday, March 21
4:45 pm Machon Hadash
Thursday, March 22
7:00 pm Or Hadash U w/Rabbi Mario
8:00 pm Or Hadash U w/Rabbi Analia
Friday, March 23
6:30 pm Servicio de Shabbat
Oneg to follow

Saturday, March 24
9:15 am Shabbat Service
Bat Mitzvah Danielle Kremer
9:30 am Machon Hadash
10:00 am Gan Katan
7:00 pm 1st, 2nd and 3rd Grade Havdalah Party | RSVP
Sunday, March 25
9:00 am CIT Baken Event
9:45 am Guest Speaker Ken Stein | RSVP
Tuesday, March 27
7:00 am Minyan and Nosh
8:00 am Learning with Rabbis
12:00 pm Torah in the Woods (offsite)
7:00 pm NAMI Connection Recovery Support Group
7:30 pm Board Meeting
Wednesday, March 28
11:45 am What's Hot and What's Not In Israel
4:45 pm Machon Hadash
---
Thank you to Rachel Lazarus, Melissa Burnstein, Melinda Burke-Budhram and Silvia Serrano for initiating the kick-off meeting for our 5779 High Holiday Youth Programming Committee.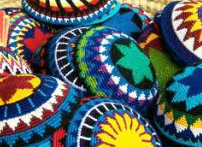 Upcoming B'nai Mitzvah
(Active links point to B'nai Mitzvah Projects)
4/21: Maya Clayman
4/28: Talia Sara
5/5: Kelli Berenthal
Passover Volunteers -- Food Prep Needed for
Pesach

March 31 - Kiddush; April 6-7 - Oneg and Kiddush

We are reaching out to our talented volunteers to help prepare Pesach Kiddush and post Pesach Oneg and Kiddush meals. If you are interested and available to help out, please contact Scott Allen today!
Reminder: No services at the shul on Friday, March 30 (Erev Passover).
Congregational Highlights

Or Hadash U | Thursday evenings, March 22 | Final Session

Or Hadash U (OHU) is led by Rabbis Analia Bortz and Mario Karpuj. Two classes per session are offered and cover a variety of subject matter. OHU is offered several times throughout the year and is open to the community. Cost: free for members, nonmembers $180. 7:00 pm with Rabbi Mario. Topic: The Masoretic Text: A history of the Biblical Text and how the Book of "The People of the Book" came to be. 8:00 pm with Rabbi Analia. Topic: Milestones: Zionist Journey - A Special iEngage Project from Shalom Hartman Institute in Jerusalem. Read more about Rabbi Analia's class | Share flyer
1st, 2nd and 3rd Grade Havdalah Party | 7:00 pm Saturday, March 24 | RSVP
Drop your students off at Or Hadash for a fun evening of camp-style activities, led by In-the-City Camp. Fun, snacks, s'mores, and Havdalah! Share flyer
Guest Speaker Ken Stein | 9:45 am Sunday, March 25
When the US was 70 years old in 1846, women did not vote, slavery was abundant, our borders were not defined, relationships with the Indians were in flux, a civil war was to come, there were issues with neighbors, and workers were exploited. By comparison, Israel at 70 has not faired badly, though it too has had its bundle of failures and still unresolved issues. From 30,000 feet and without a tilt to the left or right, what grade might we assign to Israel, Israelis and Israeli leaders? Has Israel answered the needs and hopes of the Diaspora and American Jewry in particular? The CIE will provide a light brunch from 9:45 am-10:00 am. RSVP is required | Share flyer
NAMI Connection Recovery Support Group | 7:00 pm Tuesday, March 27
This NAMI program is a free, peer-led support group for adults living with mental illness. You will gain insight from hearing the challenges and successes of others. The group is led by NAMI-trained facilitators who have been there. Meets the 2nd and 4th Tuesday of every month from 7:00-9:00 pm at COH. No RSVP required. Learn more.
What's Hot & What's Not In Israel | 11:45 am Wednesday, March 28
Join us at COH for an informal discussion of current events in Israel, led by Rabbi Mario.
Feed-the-Hungry at SSUMC | 12:30 pm Sunday, April 1 (new date)

Let's come together as a community to serve those in need. Through our partnership with SSUMC, we will help prepare and serve a warm and delicious lunch. Volunteer signup here. Unable to help, but want to participate? Please consider making a donation towards the cost of food. Click here to donate online or send your check marked for the Tikkun Olam Fund.
ShabbaTalks | 11:00 am Saturday, April 7
Topic: In solidarity with the March 24th nationwide marches, ShabbaTalks will be dedicated to GOD and GUNS. Exploring Theology with Rabbi Analia. Generally, ShabbaTalks is a discussion of articles from David Hartman, A.J. Heschel, Eliezer Berkovitz, Jacob Milgrom, and Neil Gillman. No RSVP required.
Latte 'n Learning | 9:30 am Thursday, April 12

Everything you wanted to know about Judaism but were afraid to ask, led by Rabbi Analia. This is a casual gathering for study and conversation that usually meets the 2nd Thursday of each month at COH. Topic: The Role of Women in the Biblical and Talmudic Periods. All are welcome. No reservation required.
April 8 through 14, 2018 | RSVP | Share flyer
Or Hadash and the Consulate General of Argentina is excited to present our first Jewish-Latino Film Series/Cine Latino Judio! Click 'share flyer' for a sneak peek of the five fantastic films in the series to be shown at COH during the week of April 8 on Sunday, Monday, Wednesday, Thursday and Saturday. See you at the movies!

COH Book Club | 7:00 pm Wednesday, April 18

April's book is The Resistible Rise of Benjamin Netanyahu by Neill Lochery, hosted by Ilene and Steve Zier. View schedule. For information about this book club, please email cohbookclub@aol.com.
Daytime Book Club | 1:15 pm Wednesday, April 25

All members are welcome to join the Daytime Book Club, meeting the fourth Wednesday each month at COH. Books are chosen and discussion is led by participants. April's book selection is The Summer Before the War by Helen Simonson, read more. Contact Hanora Rosen for more information.
Oreinu Leadership | 6:30 pm Saturday, April 28 (offsite)
Final Session: Oreinu will take place at the home of the Rabbis; Conversation and Havdallah from 6:30 until 9:00 PM. This program is designed to educate congregants about the many facets of our synagogue. These meetings will take place from February through April. Rabbi Analia and Rabbi Mario, along with several other leaders in our congregation, will provide engaging and meaningful learning sessions.
Birthdays | March 21 - 27
3/21
Gary Snyder
3/22
Mindy Binderman
Daniel Brown
Ronald Scheinzeit
Gail Seidman
3/23
Donna Freedman
Rebecca Friedman
3/24
Sara Duke
Judith Lewis-Schnitzer
3/25
Daniel Gordon
3/27
Karen Weinstock
Yahrzeits | March 23 - 29 March
3/23
Daniel Green, Brother of Frank Berenson
3/25
Peter J. Schmeidler, Father of Susan Blum
Florence Epstein, Mother of David Epstein
Betsy Baskin, Mother of Sanford Baskin
3/26
Sylvia Grossman, Mother of Judith Taylor
Alvin Raphael, Father of David Raphael
3/27
Freda Kurgan, Mother of Ada Gelb and Bennie Kurgan; Grandmother of Paul Kurgan and Mia Atkins
Willie James Coffee, Father of Regina Coffee
3/29
Evita Broitman Ludner, Mother of Rosi Fiedotin
Marty Lippman, Husband of Carolyn Lippman
Fritzi Schmeidler, Grandmother of Susan Blum
---
Names in blue denote Memorial Brick in sanctuary.
Click here to find out how to purchase a Memorial Brick for your loved one.
Chesed Fund
In Memory of Sandy Baskin
Elaine and Jerome Blumenthal, Jonathan Freeman, Deborah and David Woodsfellow, Denise Fields Lee
Education & Youth Program Fund
In Memory of Sandy Baskin
Leslie and Fred Wachter, Cathy Jacobson
In Memory of Hessel Sturisky
Leslie and Fred Wachter
General Fund
In Memory of Sandy Baskin
Sue and Marc Backer, Carol Weinstein,
Sandy and Neal Gale, Marj and Doug Friedman
In Memory of Hessel Sturisky
Sue and Marc Backer
Rabbis' Discretionary Fund
In Memory of Jack Zimmerman
Sherry Frank
In Memory of Salomao Lipka
Dora and Flavio Manela
In Honor of Rabbi Analia
Pamela and Alan Buchalter
In Honor of Ziv Zusman's Bar Mitzvah
Sherry Frank
---
---


Click here to honor or memorialize a loved one with your tax-deductible donation to Congregation Or Hadash.

Click the graphic above to read what's happening with our community in the Greater Atlanta area.
Save-the-date! Sunday, April 29
An Atlanta Jewish Community Celebration -- All day festival at Park Tavern. Featuring live music, fun games, good eats and so much more. Purchase your ticket | Share flyer
Get Social | Stay Connected
Fri, March 23 2018 7 Nisan 5778