e-Hadashot (חדשות) Weekly Newsletter
July 11, 2018 | 2 Av 5778 - אב
Shabbat Candle Lighting 8:32 pm | Havdalah 9:20 pm
Parashat Matot-Masei | פרשת מטות־מסעי

Friday, July 13
6:30 pm Servicio de Shabbat
Saturday, July 14
9:15 am Shabbat Services
12:00 pm Kiddush
Sunday, July 15
9:15 am Minyan
Tuesday, July 17
7:00 am Morning Minyan
12:00 pm Torah in the Woods (offsite)
Wednesday, July 18
7:00 pm COH Book Club (offsite)
---
Thank you to John Ellison, Doug Freedman, Carl Feigenbaum, Sandy Seidman, Ronald Scheinzeit, and other Men's Club members, for their generous contributions toward the new Men's Club refrigerator now standing tall in our kitchen!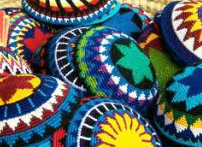 Upcoming B'nai Mitzvah
(Support our Kids! Active links point to B'nai Mitzvah Projects)
7/19: Charlotte Flame (in Israel)
8/25: Gavrielle Diamant
9/1: Benjamin Lefkovits
Congregational Highlights

Torah In The Woods | 12:00 pm Tuesday, July 17
An informal and candid discussion about the week's Torah or Haftorah portion; meeting most Tuesdays at 2801 Buford Highway, Suite 295, Atlanta, GA, 30329. Open to all. No reservations required. Please direct your inquiries to David Woodsfellow.
COH Book Club | 7:00 pm Wednesday, July 18

July's book club selection is Moonglow: A Novel by Michael Chabon, hosted by Sari Marmur. View schedule. All members are invited to join; for information about this book club, please email cohbookclub@aol.com.
Tisha B'Av Service at B'nai Torah | Saturday, July 21
7:30 pm Pre-fast refreshments, 8:15 pm Mincha. Our communities will gather at B'nai Torah (700 Mt Vernon Hwy, Atlanta GA 30328) including a one-hour interactive program and discussion exploring texts and responses to personal and communal tragedy, loss and grief. 9:30 pm Ma'ariv and reading of Eicha. No RSVP required. Share flyer.
NAMI Connection Recovery Support Group | 7:00 pm Tuesday, July 24
This NAMI program is a free, peer-led support group for adults living with mental illness. You will gain insight from hearing the challenges and successes of others. The group is led by NAMI-trained facilitators who have been there. Meets the 2nd and 4th Tuesday of every month from 7:00-9:00 pm at COH. No RSVP required. Learn more.
Daytime Book Club | 1:15 pm Wednesday, July 25

July's book club selection is Born a Crime by Trevor Noah, read more. We meet at COH; all members are invited to join... walk-ins welcomed. Books are chosen and discussion is led by participants. Contact Hanora Rosen for more information.
Trivia Night | 7:30 pm Sunday, July 29 | Share Flyer
Question: What's an awesome way to spend an evening? Answer: Trivia Night at Or Hadash! Book those babysitters now... this event is for adults only! Join us for nosh, entertainment, beverages, plus prizes for winning teams. Cover charge: $20. RSVP required by July 20.
Youth Learning and Programming
Learn all about our youth opportunities! Click here.

Registration for Machon Hadash is Open!

View the School Calendar | View the Fee Structure | Register here
Jews and Taboos
Registration is Open for 8th Graders. View Calendar | Register here
Rachel Herman had an incredible time visiting some of our children at Camp Ramah Darom and Camp Judaea. It is so wonderful to see our students engaged in Jewish learning and living throughout the summer!
Birthdays | July 11 - 17
7/11
Sophie Fineberg
Jonathan Ginsberg
Jessica Lotner
Benjamin Yellin
7/12
Elisa Diamant
Lisa Furie
Toby Parker
Sarah Shavin
7/13
Lori Halpern
Michael Kay
Fred Wachter
7/14
Marc Gary
Janna Goodman
Michele Taylor
Jennifer Wand
7/15
Carol Buchalter Mittel
Sara Fabian
Gerald Feuer
Kenneth Stein
Hannah Tourial
7/16
Simon Cohen
Kathy Eisenband
Jeff Lewis
Susan Pollock
7/17
Abraham Dobrzynski
Matthew Flame
Tzvi Gan
Karen Grinzaid
Susan Lalli
Yahrzeits | July 13 - 19
7/13
Norma Lesnick, Mother of David Woodsfellow
7/15
Jack Epstein, Father of Alan Epstein
Irving Soloway, Father of David Soloway
7/16
Bernita Brown, Mother of Daniel Brown
Sarah Kouffman, Mother of Judy Feuer
Abner Appley, Brother of Elizabeth Appley
7/17
Estelle Marks, Grandmother of Sheila Cohen
7/18
Sarah Kolodner, Mother of Janet Kolodner
7/19
Helene Cohen, Mother of Sherman Cohen
---
Names in blue denote Memorial Brick in the sanctuary.
Click here to find out how to purchase a Memorial Brick for your loved one.
July 3 - 9
Chesed Fund
In Honor of Ari Allen
Elise Eplan and Robert Marcovitch
Education and Youth Fund
In Memory of Gisele Auday
Leslie and Fred Wachter
General Fund
In Memory of Gisele Auday
Jenise and Henry Spil
Karen Kahn Weinberg and Dan Weinberg
In Memory of Sidney Grossman
Judith and Mark Taylor
In Honor of Janet Kolodner
Sue and Marc Backer
In Honor of Sarah Hinda Klein
Elaine and Jerry Blumenthal
Kiddush Fund
In Memory of Gisele Auday
Marj and Doug Friedman
Prayer Books and Library Fund
In Memory of Gisele Auday
Susan and Aaron Danneman
Rabbis' Discretionary Fund
In Memory of Gisele Auday
Cathy Jacobson
---
---


Click here to honor or memorialize a loved one with your tax-deductible donation to Congregation Or Hadash.
Get Social | Stay Connected
Mon, July 16 2018 4 Av 5778