e-Hadashot (חדשות) Weekly Newsletter
February 27, 2019 | I Adar 22, 5779 - אדר
Shabbat Candle Lighting 6:16 pm | Havdalah 7:05 pm
Parashat Vayakhel | פרשת ויקהל
Ma Hadash - מה חדש

Rabbi Dr. Analia Bortz and Rabbi Mario Karpuj
From the Rabbis:
Yossi Klein HaLevi on the radicalization of the right before Israel's election: "This has been a week of nausea and hope in Israel – from Netanyahu's sickening mainstreaming of the racist Kahane movement, to the crisis in Polish-Israeli relations provoked by our new foreign minister's ludicrous statement about Poles "imbibing anti-Semitism with their mother's milk," to the consolidation of a vigorous Israeli political center able to offer a real alternative. In the following interview, I cover those and other current Israeli issues. The interview was conducted by my friend, the terrific veteran journalist Calev
ben-David, and it appears on i24, Israel's first serious attempt at 24/7 English-language programming: Reflecting on Kahane and Israel's Right-Wing Political Arena

Wednesday, February 27
4:45 pm Machon Hadash
Thursday, February 28
7:00 pm Or Hadash U: Part 2 Unit 7
Friday, March 1
1:30 pm Sanford Baskin Unveiling
5:30 pm Elementary School Shabbat Dinner
6:30 pm Servicio de Shabbat
Oneg Sponsored by Devi and Dan Knapp in honor of Lily's Bat Mitzvah
Saturday, March 2
9:15 am Shabbat Services | 5th Grade Milestone
9:30 am Machon Hadash
Kiddush Sponsored by Machon Hadash 5th Grade Parents
5:30 pm Bat Mitzvah Celebration of Carina Jacobs
Sunday, March 3
9:15 am Minyan
12:30 pm Feed the Hungry at SSUMC
6:30 pm IAC Eitanim Program

Tuesday, March 5
7:00 am Morning Minyan
8:00 am Learning with the Rabbis
12:00 pm Torah in the Woods (offsite)

Wednesday, March 6
1:15 pm Daytime Book Club
4:45 pm Machon Hadash
7:30 pm BINGO at the Breman (offsite)
---
Upcoming B'nai Mitzvah
(Support our Kids! Active links point to B'nai Mitzvah Projects)

3/8 Lily Knapp
3/9 Brandon Buchalter
3/16 Liza Zimmerman
Mazal Tov to Sherry Frank and Jeanney Kutner, our synagogue hero honorees, who will be honored at this year's Mitzvah for the Mikvah celebrations, March 7, at Congregation B'nai Torah.
LIFE & LEGACY...
What's your passion?
(Click logo or contact Scott Allen for more information.)
Congregational Highlights
Or Hadash U | 7:00 pm Thursday, February 28
T
en Paths to God – Part 2, Unit 7 of 10: The Way of Faith. An online curriculum on Judaism and Jewish identity based on traditional sources and the teachings of Rabbi Lord Jonathan Sacks. It answers the three fundamental questions every reflective person will ask at some point in their life – Who am I? Why am I here? How then shall I live? Attendees will engage in an analysis in Hevruta (pairs), Habura (a study group) or in group discussions based on selected phrases and specific questions found in the materials. If time permits, supplementary sources will be used to take a deeper look at the week's core concepts. NOTE: Part 2 (units 6 -10) is the second half of this course. To fully participate in the classes, please RSVP here so we can provide you with the link to the upcoming week's materials. Share flyer.
Feed-
the-Hungry at SSUMC | 12:30 pm Sunday, March 3
Through our partnership with SSUMC, we will help prepare and serve a warm and delicious lunch. Let's come together as a community to serve those in need. Click here to sign up for food selection. Unable to help, but want to participate? Please consider making a donation towards the cost of food. Click here to donate online or send your check marked for the Tikkun Olam Fund.If you have any questions, please reach out to Gordon Singer | 404.255.8913.
Family Promise Week | Sunday, March 3 - Sunday, March 10
We are excited to be a part of an incredible volunteer opportunity in collaboration with Family Promise (FP) of North Fulton/Dekalb - ending the cycle of homelessness one family at a time.
This week we spotlight one of three families that will benefit from your participation. Meet Brian, a veteran and single Dad with a 16 year old son, Brennan, in DeKalb County Schools. Currently employed as an Engineer in Norcross, Brian is going through chemotherapy for lymph node cancer but is doing well and has minimal side effects from his chemotherapy. Brian recently was referred to a company that could use his skillset and he is going through the interview process now. Your help is greatly appreciated!
We still need your help to prepare and serve meals, set up and break down rooms, engage with families in homework, studies and crafts. Sign up for FP Volunteer Opportunities here.
BINGO at the Breman | 7:30 pm Wednesday, March 6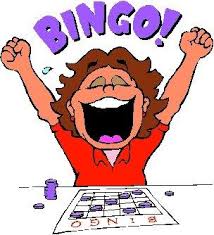 One week to start and one more reason Seniors love Bingo [excerpts provided by Leisure Care].
AN ALL-INCLUSIVE GAME: Bingo is an all-inclusive game meaning that a player does not have to be mobile to play. Seniors in wheelchairs with physical limitations can still play the game. It's even a great game for those in the early stages of dementia. Seniors can grab friends, young and old, and sit down for an engaging game of Bingo without worry that someone will be left out. RSVP here.
Women of the Wall (WOW) 30 Year Recognition | 9:15 am Saturday, March 9
In support of this movement we are asking everyone who has a WOW TALLIT to wear it to services. Participants will be called for the 5th Aliyah. Women of the Wall director Lesley Sachs said that the organization's adoption of the initiative was part of its goal to encourage women to take up Jewish customs and practices which are allowed by Jewish law, even if not traditionally practiced by women. "It's always very exciting because a lot of women who have never even thought about putting on tefillin came and did so today," she said. "It's very uplifting to see more and more women coming up to lay tefillin, as well as men vocally giving us their support." ... Women of the Wall was formed in 1988 and is chaired by Anat Hoffman, executive director. Article by JEREMY SHARON | Read complete article | Share flyer
COH Book Club | 7:00 pm Wednesday, March 13
This month's Book Club host is Ilene Zier; Sara Ghitis will facilitate. We'll review and discuss The Angel by Uri Bar-Joseph. All members are welcome to join. For information about this book club and to RSVP, please email cohbookclub@aol.com. View 2018-19 Book Schedule.
Latte and Learning | 9:30 am Thursday, March 14

A casual gathering for study and conversation that meets the second Thursday of the month. Topic: Biblical and Talmudic Dysfunctional Characters; led by Rabbi Analia. All are welcome. No reservation required.
---
Purim Carnival | 11:00 am Sunday, March 17
Admission per child: $12 online or $15 at the door. Click here to buy your tickets. At 12:50 pm we will remember longtime Purim Carnival volunteer, Chana Bermann, by planting a beautiful Sugar Maple tree in her honor at the entrance to the shul.
Pizza Dinner and Megillah Reading | 6:00 pm Wednesday, March 20
Following dinner at 6:30 pm we will hold Family Megillah Reading in the Sanctuary and Full Megillah Reading will be held in the Chapel. The dinner is free, but please RSVP... click here!
Shabbat JAM | 6:30 pm Friday March 22
Join us for services together with our Shabbat JAM band as we bring in the Shabbat Bride with song, dancing and prayer. This JAM is all about Purim so wear your most outrageous hat! No RSVP required.
Thank you for sharing our Purim Events flyer with your social media!
---

Daytime Book Club | 1:15 pm Wednesday, March 27
This month we'll discuss Barefoot Dogs by Anatonio Ruiz-Camacho, read more. Books are chosen and discussion is led by participants. We meet at Or Hadash on the fourth Wednesday of the month. All members are invited and walk-ins are welcome. Contact Hanora Rosen for more information.
Sunday, March 31 through April 6, 2019 | RSVP | Share flyer | We are excited to present our second Jewish-Latino Film Series/Cine Latino Judio at COH! Five days of fabulous films, all with English sub-titles. If you are thinking about attending our finale show, Saturday (4/6) with dinner, reservations must be made by April 1. Leading up to opening night, we will spotlight each film. See you at the movies!
Tuesday, April 2 @ 7:30 pm: Nora's Will is a sly comedy set in Mexico City's Jewish Community that reflects the complications involved with organizing a memorial while others are preoccupied with Passover. Despite their divorce, José Kurtz, and his ex-wife, Nora, never stopped caring for one another. So it's no surprise that, when she commits suicide, José is charged with overseeing her funeral. However, Nora had a plan. It would bring her ex-husband and the rest of their family together for a magnificent Passover feast. But there is a flaw in her plan…come and see the effect of a mysterious photograph hidden under the bed! Register and join us!

Youth Learning and Programming
Learn all about our youth opportunities! Click here.

View Machon Hadash School Calendar

Elementary School Family Shabbat Dinner | 5:30 pm Friday, March 1
Following a delicious dinner, join us for services. RSVP required here. If you are a student interested in leading a part of Shabbat services (opening ark, kiddush, etc.) please contact Rachel Herman.
B'nai Mitzvah Service Learning Workshop | 10:00 am Sunday, March 17
Children with upcoming B'nai Mitzvah are encouraged to attend this workshop. Learn with Rabbi Mario about the
ins-and-outs of leading Shabbat services at Or Hadash. View schedule
---
Birthdays | February 27 - 5 March
2/27
Steven Sonenshine
Susan Duke
Stanley Schnitzer
Brandon Buchalter
2/28
Esther Estroff
Ashli Breen
Jonathan Eisenstat
Michael Adler (2/29)
Ronelle Genser (2/29)
3/1
Ziv Zusman
3/2
Daniel Berger
Diane Wulfsohn Saulson
3/3
Alan Drucker
Ivy Parker
3/4
Penina Haber
Caleb Lyss-Lewis
Brianna Lyss-Lewis
Richard Elan
Jonah Blum
Haia Lerner
Geoffrey Deckelbaum
Rafael Dobrzynski
3/5
Zachary Eisenstat
Jacob Lala
Yahrzeits | March 1 - 7
3/1
Curt Schmeidler, Grandfather of Susan Blum
Eve Silverstein Geller, Mother of Michael Geller
3/2
Hessel Sturisky, Father of Selwyn Sturisky and Derrick Sturisky
Shifra Karesh-Gershon, Mother of Ellen Banov
Hyman Isenberg, Father of Robert Isenberg
Mary McNamara Nathan, Mother of Robert Nathan
Mildred Ribok Freedman, Mother of Steven Freedman
Norman Moss, Father of Rosanne Kauss
Raela Moss, Mother of Rosanne Kauss
Sheila Parker, Mother of Todd Parker
3/3
Morris Sokol, Father of Howard Sokol
3/4
Regina Schleicher, Grandmother of Rabbi Mario Karpuj
3/5
Benjamin Barlas, Father of Dorie Sokol
Joseph Kenneth Meir, Grandfather of Jennifer Meyerowitz
Paul Freedman, Father of Joel Freedman

---
Names in blue denote Memorial Brick in the sanctuary.
Click here to find out how to purchase a Memorial Brick for your loved one.
How will you assure Jewish tomorrows? Click here to learn about LIFE & LEGACY.
February 19 - 25
Building Fund
In Memory of Hannah Laipson
Abby Friedman and Harry Heiman
Chesed Fund
In Honor of Elaine and Jerry Blumenthal's
50th Wedding Anniversary
Kathy and Robert Eisenband
Annette and Ted Marcus
In Honor of Anne Grabois Davis'
60th Bat Mitzvah Anniversary
Annette and Ted Marcus
In Honor of Milo Levi Maziar
Rosanne and Andy Kauss
In Honor of Gideon Lev Matz
Annette and Ted Marcus
Rosanne and Andy Kauss
In Memory of Hannah Karp Laipson
Cathy Jacobson
In Memory of Edith Payne and Mary Weitz Friedman
Rosanne and Andy Kauss
Education and Youth Program Fund
In Memory of Hannah Katzen
Bernice Schmitz
General Fund
In Honor of Gideon Lev Matz
Marc and Susan Backer
Gabriela Siegel and Morris Benveniste
In Appreciation of Or Hadash
Barry Rabinowitz
Kiddush Fund
In Memory of Ann Moss
Jaime Goldberg
Prayer Books & Library Fund
In Memory of Norman Howard
Michele and Jeffery Howard
Rabbis' Discretionary Fund
In Honor of Milo Levi Maziar
Sherry Frank
In Memory of Anne Norris
Emily Rome
In Memory of Mary Weitz Friedman
Deborah Payne
In Memory of Hannah Karp Laipson
Sherry Frank
---
---


Click here to honor or memorialize a loved one with your tax-deductible donation to Congregation Or Hadash.
Jewish Atlanta
Click the graphic above to read what's happening with our community in the Greater Atlanta area.
** Highlights in Community **
Jewish Atlanta Film Festival (6-26 February) tickets now on sale!
Atlanta Jewish Music Festival (7-16 March) tickets now on sale!
Synagogue Heroes (3/7): Mitzvah for the Mikvah
DAFFODIL DASH at Brook Run Park (3/31)
Get Social | Stay Connected
Thu, June 4 2020 12 Sivan 5780