e-Hadashot (חדשות) Weekly Newsletter
December 12, 2018 | 4 Tevet 5779 - טבת
Shabbat Candle Lighting 5:12 pm | Havdalah 6:00 pm
Parashat Vayigash | פרשת ויגש
Ma Hadash - מה חדש

Rabbi Dr. Analia Bortz and Rabbi Mario Karpuj

From the Rabbis:
Feel alienated at services and wondering where God is in all of this?

Wednesday, December 12
4:45 pm Machon Hadash
7:30 pm COH Book Club (offsite)
Thursday, December 13
9:30 am Latte and Learning with Rabbi Analia
Friday, December 14
6:30 pm Servicio de Shabbat
Saturday, December 15
9:15 am Shabbat Services
9:30 am Machon Hadash
11:00 am ShabbaTalks
12:00 pm Kiddush
6:30 pm Shishi Israeli: Havdalah with Israeli Flavor
Sunday, December 16
9:00 am Minyan
Sponsored by Ruth and Ben Walker in memory of their daughter, Naomi Tsipora Walker
10:00 am B'nai Mitzvah Service Learning Workshop
6:45 pm Jews and Taboos

Tuesday, December 18
7:00 am Morning Minyan
8:00 am Learning with the Rabbis
12:00 pm Torah in the Woods (offsite)

Wednesday, December 19
11:45 am What's Hot and What's Not in Israel
---
Thank you to the following mensch's for helping with preparations for an amazing Hanukkah Shindig: Heather Blank, Pam Buchalter, Monica Hochstein, Anne Jeffres, Elaine Miller, Jennifer Parker, Sharon Shatil and her 7 year old, Sivan Shatil.
LIFE & LEGACY...
What's your passion?
(Click logo or contact Scott Allen for more information.)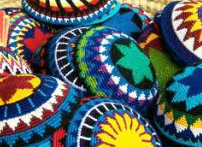 Upcoming B'nai Mitzvah
(Support our Kids! Active links point to B'nai Mitzvah Projects)

1/5 Ella Rose Jeffres
1/26 Dana Cohn
2/9 Alan Drucker
Congregational Highlights
COH Book Club | 7:00 pm Wednesday, December 12
This month's Book Club hosts are Patrick and Cindy Tracy. We'll review and discuss The World is a Narrow Bridge by Aaron Thier. Please RSVP by Friday, December 7th. All members are welcome to join. For information about this book club and to RSVP, please email cohbookclub@aol.com. View 2018-19 Book Schedule.
Latte and Learning | 9:30 am Thursday, December 13

A casual gathering for study and conversation that meets the second Thursday of the month. Topic: Biblical and Talmudic Dysfunctional Characters; led by Rabbi Analia. All are welcome. No reservation required.
ShabbaTalks | 11:00 am Saturday, December 15
Each month through May 2019 explore theology with Rabbi Analia. We will discuss articles by David Hartman, A.J. Heschel, Eliezer Berkovitz, Jacob Milgrom, and Neil Gillman. Feel free to attend these sessions à la carte or step out of services to participate. No RSVP required! Share flyer.
Shishi Israeli: Havdalah with an Israeli Flavor | 6:30 pm Saturday, December 15
Join the Israeli American Council (IAC) and Or Hadash for an evening of fun! Together we will indulge in an Israeli-themed dinner, a sing-a-long, arts and crafts and games for the kids! COST: $36 per family of 4 (or more) or $10 per individual. RSVP required at IAC's Atlanta website; click here.
---
Tikkun Olam Opportunities for the Whole Family
Please note date change for the clothing drive and Feed-the-Hungry
Annual Clothing Drive Program | Let the Preparations Begin!
Through our partnership with Sandy Springs United Methodist Church (SSUMC), items collected will be given to Sandy Springs residents who are in need. Please bring new and/or unwanted coats, warm hats, gloves, scarves, sweaters, socks, tights, and other clothes to Or Hadash and place in the collection bins. Volunteers will be needed to carpool the items to SSUMC as well as unload, set up/clean up, separate items and to monitor distribution of the items. In the meantime, let's fill those containers with warm clothes for our neighbors in need. Tell your friends and relatives, share flyer.
Volunteers needed Sunday, December 23 as follows: Accepting donations through December 22nd.
11:00 am: Four or five members to meet at COH, load items into their vehicles and drive to SSUMC for unloading.
11:30 am to 2:00 pm: Six or seven members to meet at SSUMC to help unload, set up, separate and sort items; monitor distribution of items and clean up. Members are welcome to work both locations! Please RSVP to Jodi Ginsberg by Wednesday, December 19th.
Feed-the-Hungry at SSUMC | 12:30 pm Sunday, December 23
Dear volunteers, if you have previously signed up and this change is inconvenient for your participation... please update your food selection so that others are aware of the opening.

Let's come together as a community to serve those in need. Through our partnership with SSUMC, we will help prepare and serve a warm and delicious lunch. Unable to help, but want to participate? Please consider making a donation towards the cost of food. Click here to donate online or send your check marked for the Tikkun Olam Fund. Click here to sign up for food selection. If you have any questions, please reach out to Gordon Singer | 404.255.8913.
Family Promise Week | December 16 through December 23
We are excited to be a part of an incredible volunteer opportunity in collaboration with Family Promise (FP) of North Fulton/Dekalb - ending the cycle of homelessness one family at a time. Your help is greatly appreciated!
In order to prepare for our families, we need your help to:
1) Prepare and serve meals, set up and break down rooms, engage with families in homework, studies and crafts. Sign up for FP Volunteer Opportunities here.
Volunteer Opportunity @ Central Night Shelter | 6:30 pm - 6:30 am Monday, December 24
The Men's Club is looking for 2 more volunteers to complete a 12-man team to staff the Central Night Shelter at Central Presbyterian Church and the Church of the Little Shrine (they're next to each other) in downtown Atlanta. We will serve meals and support the homeless guests of the shelter. If you're interested contact Jason Stein at 404.550.1662 or jstein95@hotmail.com.
---
---

Shabbat JAM | 6:30 pm Friday, January 4
Join us as we welcome the Shabbat Bride with celebration, song, dancing and prayer. The Shabbat Jam band, featuring talented musicians from our congregation, will add a musical touch to the Service. No RSVP required.
Jewish Things... that Go Bump in the Night | 10:00 am Sunday, January 13
Join us for an insightful workshop into the mystical vs. rational with Moshe Sokol, Weber School Jewish Studies educator. Does your heart conflict with your logic? Can they live in harmony? Try making a golem and find out! No cost for the workshop but for security purposes, please RSVP to dlee@or-hadash.org.
Daytime Book Club | 1:15 pm Wednesday, January 23
In December we'll discuss Becoming Mrs. Lewis by Patti Callahan, read more. We meet at COH; all members are invited to join... walk-ins welcomed. Books are chosen and discussion is led by participants. Contact Hanora Rosen for more information.

Youth Learning and Programming
Learn all about our youth opportunities! Click here.

View Machon Hadash School Calendar

B'nai Mitzvah Service Learning Workshop | 10:00 am Sunday, December 16
Children with upcoming B'nai Mitzvah are encouraged to attend this workshop. Learn with Rabbi Mario about the
ins-and-outs of leading Shabbat services at Or Hadash. View schedule
---
Birthdays | December 12 - 18
12/12
Marjorie Friedman
Samantha Kurgan
Robyn Roth
Valerie Weitzner
12/13
Aliza Krug
12/14
Robert Clayman
Howard Levine
Gary Saitowitz
12/15
Tatiana Goldstein
Jonathan Lalli
Ilana Tsur
12/17
Eric Berger
Jeremy Lefkovits
Paul Lewis
Lance Perling
Rachel Schultz
Yahrzeits | December 14 - 20
12/14
George Feinstein, Father of Jeffery Feinstein
Sidney Backer, Father of Marc Backer
Beatrice Marcus Smith, Mother of Debbie Smith
12/15
Eddy Allen, Father of Scott Allen
12/16
Naomi Tsipora Walker, Daughter of Ruth and Ben Walker
Milton Perling, Father of Lance Perling
Andrea Lefkovits, Wife of Tomas Lefkovits,
and Mother of Jeremy Lefkovits, David Lefkovits and Marc Lefkovits
Zion Maman, Father of Margalit Gordon
12/17
Stanley Wrubleski, Grandfather of Traci Lerner
Jonathan Lee Bookman, Cousin of Karen Kahn Weinberg
12/19
Rylan Foster Gelb, Grandson of Ada Gelb and Cousin of Paul Kurgan
John Vogel, Grandfather of Clark Michaels
---
Names in blue denote Memorial Brick in the sanctuary.
Click here to find out how to purchase a Memorial Brick for your loved one.
December 4 - 10
Building Fund
In Honor of Owen Grant Hertzfeld
Melinda and Steven Wertheim
Chesed Fund
In Honor of Joan Baskin's 85th birthday
Marj and Douglas Friedman
In Honor of Benjamin Rosenberg's Bar Mitzvah
Annette and Ted Marcus
Education and Youth Program Fund
In Honor of Sam Matheny,
Bob Eisenband's 70th birthday,
Michal Ilai's 50th birthday and
Sharon Rosenfeld's receipt of 2018 JCamp 180
Outstanding Development Professional Award
Marj and Douglas Friedman
General Fund
In Honor of Marj Friedman's special birthday
Arline and Ronald Scheinzeit
In Memory of Harry Friedman and Jules Scheinzeit
Marj and Douglas Friedman
In Honor of Kathy and Bob Eisenband's 50th wedding anniversary
Marj and Douglas Friedman
Rabbis' Discretionary Fund
In Honor of BBC's recognition of Rabbi Analia's Greatness
Susan and Marc Backer
Tikkun Olam Fund
In Honor of Rabbi Analia, and for all that you do as acknowledged by the BBC Award
Sheila and Michael Dalmat

In Appreciation of Gita and Steve Berman
for being the best machatunim
Arlene and Lawrence Maze
---
---


Click here to honor or memorialize a loved one with your tax-deductible donation to Congregation Or Hadash.
Jewish Atlanta
Click the graphic above to read what's happening with our community in the Greater Atlanta area.
** Highlights in Community **


Anti-Semitism Summit (1/6)
Hebrew Ulpan Classes with our own Michal Ilai (1/10)
Loving Someone with Infertility. Rabbi Analia joins the speakers panel (1/17)
Black Forest Documentary and Q&A with survivor Kay Wilson (1/31)
Get Social | Stay Connected
Mon, June 17 2019 14 Sivan 5779