e-Hadashot (חדשות) Weekly Newsletter
December 26, 2018 | 18 Tevet 5779 - טבת
Shabbat Candle Lighting 5:18 pm | Havdalah 6:07 pm
Parashat Shemot | פרשת שמות
Ma Hadash - מה חדש

Rabbi Dr. Analia Bortz and Rabbi Mario Karpuj

From the Rabbis:
'Good riddance': Opposition lawmakers cheer as early elections called

Friday, January 4
6:30 pm Servicio de Shabbat with Shabbat JAM
7:45 pm Oneg Sponsored by the Jeffres Family in honor of Ella's Bat Mitzvah
Saturday, January 5
9:15 am Shabbat Services
Bat Mitzvah Celebration of Ella Rose Jeffres
Sunday, January 6
9:15 am Morning Minyan
Tuesday, January 8
7:00 am Morning Minyan
8:00 am Learning with the Rabbis
12:00 pm Torah in the Woods

Wednesday, January 9
11:45 am What's Hot and What's Not in Israel
4:45 pm Machon Hadash
​​​​​​​7:00 pm COH Book Club (offsite)
---
Happy New Year
2019/5779
LIFE & LEGACY...
What's your passion?
(Click logo or contact Scott Allen for more information.)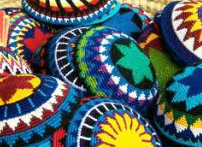 Upcoming B'nai Mitzvah
(Support our Kids! Active links point to B'nai Mitzvah Projects)

1/26 Dana Cohn
2/9 Alan Drucker
2/16 Jonah Blum
Congregational Highlights

Shabbat JAM | 6:30 pm Friday, January 4
Join us as we welcome the Shabbat Bride with celebration, song, dancing and prayer. The Shabbat Jam band, featuring talented musicians from our congregation, will add a musical touch to the Service. No RSVP required.
COH Book Club | 7:00 pm Wednesday, January 9
This month's Book Club hosts are Sheila and Michael Dalmat. We'll review and discuss Sapiens: A Brief History of Humankind by Yuval Noah Harari. Please RSVP by Friday, January 4. All members are welcome to join. For information about this book club and to RSVP, please email cohbookclub@aol.com. View 2018-19 Book Schedule.
Latte and Learning | 9:30 am Thursday, January 10

A casual gathering for study and conversation that meets the second Thursday of the month. Topic: Biblical and Talmudic Dysfunctional Characters; led by Rabbi Analia. All are welcome. No reservation required.
ShabbaTalks | 11:00 am Saturday, January 12
Each month through May 2019, explore theology with Rabbi Analia. We will discuss articles by David Hartman, A.J. Heschel, Eliezer Berkovitz, Jacob Milgrom, and Neil Gillman. Feel free to attend these sessions à la carte or step out of services to participate. No RSVP required! Share flyer.
Jewish Things... that Go Bump in the Night | 10:00 am Sunday, January 13
Join us for an insightful workshop into the mystical vs. rational with Moshe Sokol, Weber School Jewish Studies educator. Does your heart conflict with your logic? Can they live in harmony? Try making a golem and find out! No cost for the workshop but for security purposes, please RSVP to dlee@or-hadash.org.
Daytime Book Club | 1:15 pm Wednesday, January 23
In January we'll discuss Becoming Mrs. Lewis by Patti Callahan, read more. We meet at COH; all members are invited to join... walk-ins welcomed. Books are chosen and discussion is led by participants. Contact Hanora Rosen for more information.

Youth Learning and Programming
Learn all about our youth opportunities! Click here.

View Machon Hadash School Calendar

B'nai Mitzvah Service Learning Workshop | 10:00 am Sunday, January 20
Children with upcoming B'nai Mitzvah are encouraged to attend this workshop. Learn with Rabbi Mario about the
ins-and-outs of leading Shabbat services at Or Hadash. View schedule
Middle School Shabbat Dinner | 7:45 pm Friday, January 25
Join us for services at 6:30 pm followed by dinner for the whole family! If you are a middle schooler interested in leading a part of the service (opening ark, kiddush, etc.) please contact Rachel Herman | RSVP for dinner here.
---
Birthdays | December 26 - 1 January
12/27
Jacob Lewis
12/28
Madeline Connell
Howard Golden
Matthew Greenberg
Jeff Jacobs
12/29
Sara Ghitis
12/30
Naomi Benveniste
Ella Colker
Ellen Golden
Sheryl Lyss
12/31
Sandra Cuttler
1/1
Jeffrey Grosoff
David Lefkovits
Brandi Levy
Jaren Linowes
Yahrzeits | December 28 - 3 January
12/28
Irving Buchalter, Father of Alan Buchalter
12/29
Joan Horwitz, Mother of David Horwitz and Grandmother of Ula Zusman
Anne Feinstein, Mother of Rabbi Jeffery Feinstein
1/1
Allan Herbert Plasker, Father of Eric Plasker
Andrew G. Kahn, Grandfather of Karen Kahn Weinberg
1/2
Doris Greiss Rosenbaum, Mother of Sheila Dalmat
Rebecca Adler, Mother of Merle Horwitz and Grandmother of Ula Zusman
Ruth Reistman, Mother of Patty Maziar
1/3
Ruth Seville, Mother of Jane Seville
Sidney C. Norris, Father of Emily Rome
---
Names in blue denote Memorial Brick in the sanctuary.
Click here to find out how to purchase a Memorial Brick for your loved one.
December 18 - 24
Building Fund
In Memory of Frances Lesser Buchalter
Melinda and Steve Wertheim
Chesed Fund
In Honor of Ilene Zier
Annette and Ted Marcus
In Memory of Frances Buchalter
Louise Miller
In Memory of Freda Hannah Fox Fink
Elaine and Jerry Blumenthal
In Memory of Frances Lesser Buchalter
Cheryl Hecht-Thurschwell and Lenny Thurschwell
Educational Fund
In Memory of Beverly Weaver Freshman
Leslie and Fred Wachter
Marj and Doug Friedman
In Memory of Frances Lesser Buchalter
Leslie and Fred Wachter
General Fund
In Memory of Frances Lesser Buchalter
Cathy Jacobson
Sue and Marc Backer
In Honor of Marj Friedman's Special Birthday
Kathy and Bob Eisenband
In Appreciation of Or Hadash
Barry Rabinowitz
In Appreciation of Congregation Or Hadash
Congregation Board, Members and Staff
Denise Fields Lee
Kiddush Fund
In Honor of Marj Friedman's 60th birthday
Joan Baskin
Rabbis' Discretionary Fund
In Appreciation of Rabbi Analia and Rabbi Mario
Arline and Ron Scheinzeit
In Appreciation of Rabbi Analia
Joan Baskin
In Memory of Frances Lesser Buchalter
Marj and Doug Friedman
Sherry Frank
In Memory of Beba Pardo
Suzy Biller
In Honor of Susan and Stanley Pollock's
50th wedding anniversary
Marsha Raxter and Alan Silvers
Nancy and Morton Dimenstien
Tikkun Olam Fund
In Memory of Naomi Walker
Ruth and Ben Walker
In Honor of Susan and Stanley Pollock's
50th wedding anniversary
Robyn Barocas
---
---


Click here to honor or memorialize a loved one with your tax-deductible donation to Congregation Or Hadash.
Jewish Atlanta
Click the graphic above to read what's happening with our community in the Greater Atlanta area.
** Highlights in Community **


Anti-Semitism Summit (1/6)
Hebrew Ulpan Classes with our own Michal Ilai (1/10)
Loving Someone with Infertility. Rabbi Analia joins the speakers panel (1/17)
Black Forest Documentary and Q&A with survivor Kay Wilson (1/31)
Get Social | Stay Connected
Mon, June 17 2019 14 Sivan 5779